Production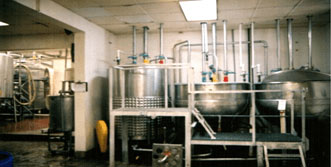 Production
Our company has been around for over 25 years, specializing in the production of concentrates.
The main production facilities is located in Orlando Florida and we also have facilities in St Augustine and St Louis .
The production facilities have some of the following Inspection and Certifications:
USDA, FDA, US Dept of agriculture, HACCP, Fresh from Florida, Gluten Free, Orthodox Union Kosher
What makes us different?
All our products are Shelf Stable, no refrigeration required. The shelf life of most products range between 5 months to a year, under ambient conditions. Product life can be extended through refrigeration.
Oils, essences and aromas are converted into concentrates for ultimate quality. No burning from pasteurization.
We utilize concentrates of the highest quality.
Products are packaged to ensure flavor, product freshness and shelf life. We offer the capability of custom formulating any type of juice, or frosted products.
Product formulation to adapt from 1% to 100% juice content.
Products can be enhanced with Vitamins and supplements on request.
Our soft serve and shake mix keep up to a year under ambient conditions.
These products are produced with our proprietary "shelf life" formula for shipment anywhere in the world with a carrier of your choosing.